From time to time we get some unusual hanging requests that call for a little ingenuity, some muscle and often a good head for heights. These are the jobs that even the cleverest home-handyman baulks at.
Now we don't usually put photos in this section, but with the kind permission of their owners, we present to you a few examples of the challenges we face.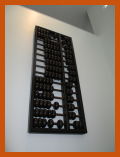 This is a 2-metre abacus, which we suspect was once owned by a giant accountant. Being solid timber, it was damned heavy. The owner had thought ahead and had the builders reinforce the wall. Clever! Special brackets were affixed to the wall to support the weight and lock it into position.
Accuracy was at a premium as we only had one shot at getting it right! And what a talking point it is, though you'd need a pretty long stick to count on it.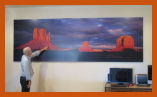 Here's a stunning 3.37-metre long photo.
It was mounted on very bendy acrylic, with a wooden frame glued to the back. It had to be carefully navigated right around the house (watch out for the clothesline!) to get it into the room.
Once there, careful measuring and fixing made sure it hung absolutely straight and secure.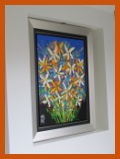 Many a time we've had to shoehorn a painting into an alcove.
These recesses are tricky to work with because so often we can't reach behind to hang the painting! But that's what they're there for.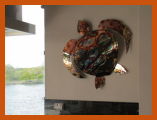 This beautifully handcrafted turtle sculpture had a nifty shell that rotated. So we couldn't hold onto that when fixing to an outside wall, only by the very delicate and rather bendy legs. And they were sharp!
But the shimmer of the metal as it flexed ever so gently in the breeze was rather special and well worth the 'ouch' factor.
And finally, check out the photo sequence below.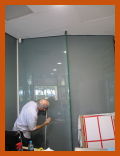 Two aerial photos had to be cut down the middle and reframed on 3 sides only so each side could butt up to a glass partition in the middle of the back window of this real estate office.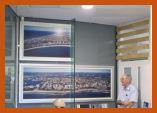 We measured 3 times, did a dry run, and then held our breaths as we mounted each section to the glass wall with instant-stick mirror tape.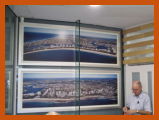 Result: a spectacular panorama enlivening a very squeezy space.
So there you are. When we say Right Hook is a picture hanging service, sometimes there's more to it than what you would immediately think.